The return of Cristiano Ronaldo to the Manchester United, has sparked confusion as the English Premier League listed both the Portuguese star and Edinson Cavani, as the club's No 7, for this season.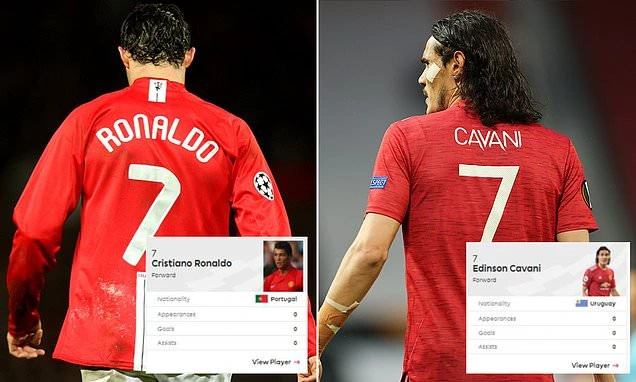 Recall that Manchester United has confirmed, that Cristiano Ronaldo, would be returning to the club, after they sealed an agreement on Friday, August 27.
With Edinson Cavani currently wearing the "Number 7 T-shirt" and Cristiano Ronaldo who has always wore the "Number 7 T-shirt", returning to the club, there has been a debate on whether Cavani will handover the number 7 T-shirt, to Cristiano Ronaldo.
However, in a bizarre turn of events, the English Premier League, for now, have decided to assign the number to the two players.
Meanwhile, according to the Section M, Players' Identification and Strip of the Premier League Handbook, for the 2021/2022 season, before the commencement of each Season, each Club shall allocate a different shirt number to each member of its first team squad.

The handbook stated that as longer as a Player remains at the club, he shall retain his shirt number, throughout the season for which it was allocated.

With the above rules of the Premier League, Cavani would probably, retain his shirt number, while Ronaldo would be assigned another shirt number. For now, both players have been assigned the same shirt number.

What do you have to say in this, do you think Cristiano Ronaldo will agree to have another shirt number?